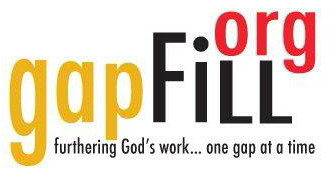 I wanted to thank you and let you know that with your help we are on target this year to raise more money for Christian missionary projects than ever before.

Alex Vincent needed your support and you came out in full force showing thanks and honor to Alex and Lois for their over 50 years of service to Jesus.  
Learn more >>


You took care of the immediate…
You funded a roof in less than one day for a widow who never asked for anything (we found out this need from another missionary).
Learn more >>


And you looked toward the future… 
supporting all of our summer interns.  After all, these are the future missionaries.
Human Trafficking Need Learn more >>
Sharing Jesus Learn more >>
Feeding the Hungry Learn more >>
Thank you again for your ongoing support of GapFill and for the missionary lives you have touched. By giving to us you are helping "Further God's work, one gap at a time".
Check out our current "Items Needed" tab. You will find some immediate needs solar panels and  eye treatments and some visionary needs
Christian recording equipment in India and preaching of the Mesem New Testament. Take your pick, they all have eternal value!!!
God Bless you all for your generosity,
Joyce

To receive GapFill.org's blog posts automatically via email, enter your email address in the "FOLLOW GAPFILL VIA EMAIL" box on the right-hand side of this blog and click "Follow".